Temple Festivals
The Four main festivals are celebrated in Temple. They are Darshan Day (7th of January), Ramnavami (March/April), Guru Purnima (July),and Vijayadashami (September). These festivals are celebrated with great passion, verve and he artfulness. There is a programme of puja, music (bhajan) public parayana (reading of scriptures and devotional texts).
Temple Festivals Dates 2019
| Festivals | Date | Day |
| --- | --- | --- |
| 76th Darshan day | 07-01-2019 | Monday |
| Sri Ramanavami | 13-04-2019 | Saturday |
| Gurupurnima | 16-07-2019 | Tuesday |
| 101th Mahasamadhi day | 08-10-2019 | Tuesday |
Sri Naga Sai Darshan Day Celebration on 7th of January
In 1943 on the evening of the 7th of January, Guru-vara (Thursday) sacred for worship of Baba, a miracle happened! The place where the Naga disappeared in held as a 'Holy Ground' by devotees and from that day onwards Shirdi Sai Baba in Coimbatore is worshipped as "Sri Naga Sai".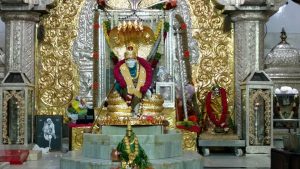 Sri Ramnavami  9 Days of Celebration
In 1897, Gopalrao Gund proposed holding in Urus as in expression of his gratitude to Baba for having been granted the birth of a son after many childless years. Baba gave HIS permission for the celebration and fixed the day for Ramnavami.
Guru Purnima Day Celebration
Guru Purnima (" Purnima means full-moon") is the one which disciples and devotees honor and felicitate their guru and seek his or her special blessing. Although it is of great importance in Sri Naga Sai Temple, perhaps because it is the only festival which Baba asked us to celebrate.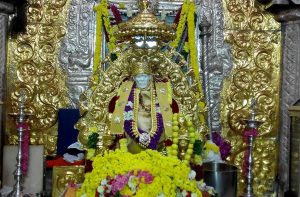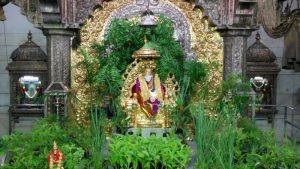 Vijayadashami/ Mahasamadhi Day 10 days of Celebration
Vijayadashami in celebrated throughout India, under different names and with regional variations, as the victory of good over evil. For Sai devotees, it is venerated as the holy day that their beloved Gurudeva(Saibaba) attained mahasamadhi (also known as Punyatithi) and is a big festival in Sri Naga Sai Temple.