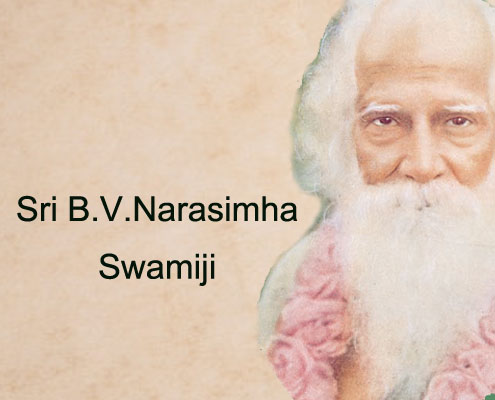 (He propagated about Baba across  the  country   with   emphasis  in  South  India  &  wrote books on devotees' experiences  besides  other  books,  resulting in large  number  of  people visiting Shirdi as against less than a dozen visitors earlier.   Unveiling  of  his  portrait  in the Samadhimandir by Justice Rege was a  tribute  to his unprecedented efforts  in  propagating about Baba  and  he was acclaimed as Sai Baba's Great Apostle).
Sri Narasimha Swamiji is appropriately known as the Great Apostle of Sri Sai Baba of Shirdi. It was he who discovered Sri Sai Baba and presented him to the world. Sri Narasimha Swamiji refused to write his autobiography and did not leave a full record of the course of the events leading to his own spiritual pursuit and hence based on the available records, the following has been gathered and presented.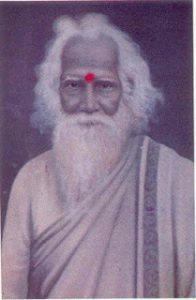 With his initial publicity work about Baba and later publicity by several devotees of Baba within India and across the world, Baba has become known across the world including the smallest countries in different directions. It is equally surprising to observe that people in the farthest and smallest countries in all the directions, also have perused the articles placed in the public domain by the compiler. Some such countries are Cuba (Havana), Taiwan, Lithuania, Benin and Rwanda in different directions in the globe. It is all the more striking to know that the people in Sint Maarten or St.Martin, perhaps the smallest island in the world in the south-eastern Caribbean Sea, having a population of about 38,000, have also felt the presence of Baba and are perusing the articles. People in Curaçao, an island having less population in the southern Caribbean Sea off the Venezuelan coast, are also perusing the articles.  This phenomenon can be easily explained and construed by the fact that Baba, being God-Incarnate  is known to, and is being felt by, all people in all the countries.
Sri Narasimha (later on popularly ' known as Sri Narasimha Swamiji) was bom on 21st August, 1874 in an orthodox Brahmin family at Bhavani in Coimbatore district, Tamil Nadu. His parents were Sri B. Venkatagiri lyer and Smt. Angachi Ammal. He had a brilliant educational career. After he had finished matriculation in Salem, he went to Madras and passed B.A. and B.L. On return to Salem in 1895 he joined the bar and started practicing law at Salem. He was by nature against the unnecessary and ruinous expenditure that litigation had caused among the poor. He was therefore instrumental in settling several cases by arbitration without any fee. He was always ready to render free service to the poor and the deserving. His unassuming simplicity, integrity and helpful nature won for him great appreciation and regard from the public. He became the Chairman of the Salem Municipality. The rare legal acumen and eloquence that he showed in dealing legal cases, brought him fame and success, resulting in getting a large number of clients, abundant income coupled with high influence in the society. His wife was Seethalakshmi and had a happy family with sons and daughters and was leading a comfortable life and also religiously inclined with pious approach and helping nature to the poor..
Even though he acquired huge wealth, he was also interested in rendering public service. He was also associated with politics and was a great admirer and follower of Sri Bal Gangadhar Tilak. In 1912, he was elected as a member of the Madras Legislative Council, in recognition of his flair for public service. He continued to be the member till 1920. He was the first Indian member to address the Legislative Council in the regional language. He was an active member of and participated in the Home Rule League, started by Mrs. Annie Besant. He was one of the three persons sent to Britain in 1917 to place India's case for Home Rule before the British people. Among the prominent national leaders and contemporaries of Sri B. V. Narasimha Iyer were Sri C. Rajagopalachari, popularly known as Rajaji and Sri C. Vijaya Raghavachari. Both were from Salem. Sri B. V. Narasimha Iyer became a prominent figure in the public life of Madras Presidency. His lectures in all places always drew large audience.
Two of his children Jayaram and Savitri, who were playing in the garden, accidentally fell into the well and were drowned. This was a great calamity in his family which gave a serious shock to him in 1921. After this incident, he give up his lucrative legal practice and also withdrew from political and social activities. Meanwhile he had educated the other sons and made them stand on their own legs financially. His surviving daughters Rajalakshmi and Sharadamai had already been married and settled in life decently. He developed detachment from his domestic and worldly affairs. He took up the work connected with the Lakshmi Narayana temple and got it completed.
He then left home in 1925 and went in search of a Sadguru for spiritual pursuit. In his efforts in this direction, he met Jagatguru H. H. Narasimha Bharati who advised him to visit and seek the blessings of Ramana Maharishi in Tiruvannamalai. He accordingly went to Tiruvannamalai and stayed there in one of the caves observing silence for 3 years and concentrated on the study of Vedanta. During his stay in Tiruvannamalai he wrote the biography of Ramana Maharishi under the title "Self Realisation" in English. Through this book, Ramana Maharishi became known to several people across the country and also in Europe and America. This book resulted in many seekers from Europe and America to flock to Tiruvannamalai.
He then went to Pandharpur and worshipped Lord Vitthal and then went to Khedgaon near Poona and saw Sadguru Narayan Maharaj who advised him to visit Meherbad, a place near Ahmednagar. He went and stayed there with Meher Baba for sometime. Meher Baba was a desciple of Sri Upasani Baba of Sakori and he then proceeded to Sakori to meet Upasani Baba in 1933 and stayed there for some days. He then left Sakori and unexpectedly he came back again to Sakori after some time and stayed for some more days. Like this without any aim and direction, we was wandering. He had heard from Upasani Baba about Sri Sai Baba of Shirdi. He came to know that Sai Baba helped Sri Upasani Baba in his spiritual pursuit and also came to know fully about Sai Baba. And suddenly a thought flashed in his mind that when Sri Upasani Baba himself was so great in spiritual matters then Sai Baba, his Guru must be much greater in theses matters. He also wrote the book "Sage of Sakori" on Upasani Baba which pays tributes to the efforts of Upasani Baba in spreading Baba's messages. He considered Sai Baba as the embodiment of The Trinity. With the permission and blessings of Sri Upasani Baba, he then moved to Shirdi.
In 1936, he visited the Samadhi of Sai Baba and stood silently watching the Samadhi. It was the happiest period in his life as Baba spoke to him in eloquent silence and bestowed spiritual bliss on him. He expressed utmost joy at that time and also expressed that he got from Baba more than what he could take in spiritual matters. He had thus finally discovered his Sadguru in Saibaba. He also felt that he was living in constant communion with Sai Baba.
During 1936 when he visited Shirdi, the following Baba's devotees were alive at that time for interaction with them: Shama, Tatya, Abdul Baba, Laxmibai Shinde, Saguna Meru Naik, Balasaheb Bhate, B.V.Dev, Martand Maharaj, Ramachandra Patil, Kaka Mahajani (Laxman Ganesh), Laxmanmama Joshi & Bhagoji Shinde (about the last two persons, the compiler is not sure about their availability for interaction by Swami). After 1936, at different places, he also met Justice M.B.Rege, Justice P.R.Avaste, Das Ganu Maharaj, Upasana Baba, H.V.Sathe, Prof G.G.Narke, R.B.Purandare, Damodhar Savalram Rasane, Dattatreya Damodhar Rasane, Sai Sharanandji, Narayana Maharaj of Kedgaon and the children of other staunch devotees of Baba and elicited valuable information about Baba. Swami not only met these devotees in Shirdi and but also traveled to several places to meet the devotees for their experiences. He also met Raghuji Shinde, a servant of Baba about his experiences. Thus Swami collected a plethora of devotees' experiences and compiled them for publication later on. Wonderful was his service about the greatness of Baba which he made available for the posterity. 
Till 1936, the number of persons visiting Shirdi was very small, not more than a dozen in number. He decided to carry Baba's message to all the places in the country by touring every town and village and spreading about Baba's mission, miracles and messages. He took efforts to acquire some knowledge about Marathi which he used to seek and collect information from all the devotees who were still living at that time and who were lucky enough to meet Baba when he was in mortal coil and got Baba's blessings. In this direction, he met and interviewed more than sixty such devotees and made enquiries, collected information and recorded their experiences with Saibaba which clearly revealed as to how Baba had helped them in their temporal and spiritual efforts. He was also invited by Justice M.B.Rege, an ardent devotee of Saibaba and through him, he was able to meet Justice P.R.Avaste at Gwalior. Sri Avaste helped Swami to read Sri Sai Satcharita, Sai Leea Masik magazines, both in Marathi and also other Marathi publications. With the help from Avaste, he learnt and started reading books in Marathi and thus became well informed about Baba. Then with Justice M.B.Rege and Justice Avaste, he toured several places in Maharashtra and addressed mass meetings in English and Marathi. Meanwhile, he wrote a series of articles on Sai Baba in the 'Sunday Times' of Madras till 1938-39. His inspiring articles were published in Sunday Times, in about 30 to 40 issues ( in all 20,000 copies) of the journal. This sparked off and became the foundation stone for several thousands of devotees across India to know about Baba, his mission and his miracles. He had collected exhaustive information about Baba from R.B.Purandare and B.V. Dev and also about their experiences with Baba; and these two ardent devotees had also informed Narasimha Swamiji about Nanasaheb Chandorkar's experiences with Baba.
As a result of all these efforts, large streams of people started visiting Shirdi from 1936. Till then, only about a dozen local villagers from Shirdi used to attend the Samadhimandir at the arati timings. Immediately after Baba's Mahasamadhi, the restaurant run by Sagun Meru Naik just opposite to the Masjid was also closed temporarily due to lack of visitors to Shirdi. That was the situation which was later transformed into a busy area after the publicity efforts of Swamiji.
He then started at the age of 66 years, an All India Sai Samaj in Madras in 1940 with the object of spreading Saibaba's mission, miracles and messages among the people. During his visits to the Sai bhaktas, he collected from them lot of information and their statements and published books under the name "Devotees Experiences of Sri Sai Baba" in English and Tamil in 1940-41. This was a monumental publication which carried the mission, miracles and messages of Baba across the country
Books written by Dasganu Maharaja, 'Glimpses of Spirituality' by Rao Bahadur M.W. Pradhan and also 'Sai Satcharita' in verse in Marathi, written by Annasaheb Dabholkar are instrumental in propagating the messages of Baba. Swami wrote books on Sai Baba. 'Introduction to Sai Baba' was the first book written by him He then wrote 'Who is Sai Baba' which was released in 1939. He also wrote 'Wondrous Saint' and then 'Charters and Sayings" and 'Gospel of Sri Sai Baba'. He composed hymns in Sanskrit, entitled 'Sri Sainath Smaranam', which was translated into Tamil and .English. In 1944, Swamiji wrote a play in Tamil, entitled 'Sri Sai Charita Natakam'. He also wrote Sri Sai Harikatha to popularise Sai-movement through a musical discourse. He then wrote and published in 1945 'Glimpses of Sai Baba'. Besides these books, he also published many other books on Sai Baba, which were translated into many Indian languages. He then thought that It was necessary to formulate a systematic way of conducting Saibaba worship. So, he wrote 'Sri Sainath Pooja Vidhi' and 'Sai Sahasranamam' in addition to the Ashtotaram, already in use. This was published in Sanskrit, Tamil, Telugu and Kannada.
To give further impetus to Saibaba movement, he felt the need of holding All India Sai Devotees' Conventions annually. The First All India Sai Devotees' Convention was held for four days in May, 1946 in Mylapore, Madras. More than two hundred delegates and devotees attended the convention. Sri Martand, son of late Sri Mhalsapati also attended the convention besides many others, like Sri Kesavaiahji of Shenoy Nagar, large local. People. Several participants of the convention narrated their experiences as Sai devotees. After the first All India Sai Devotees' Convention, other conventions followed in subsequent years.
Swamiji had miraculous powers by the Grace of Baba. There are several instances. An instance from the life history of Madam Vinny Chitluri is narrated here.  One day, her father, who was a hardcore atheist, read in 'The Hindu' that Swamiji was coming to the Naga Sai temple in Coimbatore. The news paper also gave a glowing ac­count of Swamiji's divine nature and how he healed so many people. Her father decided to take her ailing mother to him and she also accompanied. This took place in 1949, The day before the meeting, her mother had a dream in which she saw this 'gentle bearded man' with plenty of devotees around him, while he was seated in a palanquin. He was wearing a short grey kafni.  Her mother told her father about her vivid dream without knowing that she was destined to meet him the next day. Her father met him and pointing to her mother said, "She is terribly sick. Please heal her. I can always find another wife, but not a mother for my kids."  Then Swamiji placed his palm on her head and her mother shivered and afterwards was filled with joy. Swamiji then gave her mother Baba's Udi and a hymn, " Achuta, Ananta, Govinda." and  asked her to chant it 21 times for 21 days. He had also told her to apply Baba's Udi and take it internally with water. She was thus cured of her illness fully. Her father then became a Baba's devotee and she also became a staunch devotee of Baba and devoted her later life for the propagation of Baba's mission and messages. She was working in America and during her peak period in her service, she left America and came to Shirdi to do service in the name of Baba. She also wrote several books on Baba and finally settled in Shiridi in the service of Baba.
Swamiji's health started deteriorating and due to his declining health, he had authorized other ardent devotees, such as Sri Saipadananda Radhakrishna Swamiji, (President of Sai Spiritual Centre, Bangalore) and Sri Kesavaiahji (Later on the founder President of Sri Sai Baba Bhakta Samajam, Shenoy Nagar, Madras) to preside over the later conventions.
In 1940, Swamiji started the 'Sai Sudha' monthly with English, Tamil, Sanskrit and Telugu sections. He also started in Madras the three annual festivals, namely, Sri Ramanavami, Gurupoornima and Baba's Mahasamadhi day on the pattern of Shirdi festivals and these programmes were celebrated for ten days with devotional music and songs and religious discourses with poor feeding. Free distribution of Baba's photo on post card size was also done by Swamiji along with Baba's Udi-Prasad. In 1954, he started Sai Free Dispensary for the benefit of the poor and slum dwellers along with a library and Sai Vidyalaya.
One Papaiya Chetty of Bangalore, a devotee of Baba who read Swamiji's books, met him at Shirdi in 1940 and handed over a bundle of cash containing Rs.11,458 to Swamiji for his work and left without saying anything and Swamiji utilized this amount for Sai-pracharak work as per Baba's direction.
In 1949, the Samaj was shifted from Broodies Road to Alarmelu Mangapuram, Mylapore. By donations from generous public and sale of Sai literature, funds were raised for constructing the front hall where Baba's picture was installed and Swamiji started worshipping Baba from Gurupoornima day on 7lh July, 1952. The construction of the Mandir with a tower on the pattern of Shirdi was completed in 1953.
In 1953 Swamiji slipped in the bathroom. Thus he became seriously ill upto the middle of 1954. Notwithstanding his illness, he decided to spend his remaining time in the propaganda service about Baba and concentrated on completing his work 'Life of Sai Baba'. With Baba's Grace, he was provided with a stenographer. Without the help of a stenographer, it would not have been possible for him to complete the task either for the book or for 'Sai Sudha' or for the release of the numerous pamphlets.
Later the help rendered by His Highness, the Maharaja of Mysore who donated Rs.5,000/-, enabled the Samaj to purchase a press, printing machines and blocks which resulted in the publication of four volumes on the life of Sri Sai Baba. It is to be noted, that no copyright is reserved in any of the books or publications brought out by Swamiji.
On 12th September, 1956, Swamiji's 83rd birthday, was celebrated in Chennai head quarters. With Baba's Grace, he acquired some powers which he used for the benefit of the general public. From October, 1956, Swamiji could not move out of his bed on account of his severe illness. Despite this, he continued his pracharak work from his bed and attended to other works and spent the remaining time in meditating on Baba. On 19lh October, 1956, Swamiji left his mortal coil and merged in Baba. Swamiji's relentless efforts in popularizing Baba, started bringing innumerable crowds to Shirdi to have darshan of Samadhi Mandir. Swamiji was a blessed and saintly soul, who was thus mysteriously drawn to Samartha Sadguru Sai Baba. He dedicated his entire later life and energies to the task of ceaseless and vigorous propagation of the mission, miracles and messages of Sri Sai Baba across the people throughout India.
His Holiness Sri Narasimha Swamiji's portrait was unveiled in the Samadhi Mandir in Shirdi along with those of other ardent devotees on 26th January, 1966 by Justice M. B. Rege, an ardent devotee of Baba, who got blessed by Baba when Baba was in mortal coil in Shirdi. Unveiling of his portrait in the Samadhimandir was a glowing tribute to his efforts in effectively carrying the message of Baba across India and also the world. He was acclaimed as Sai Baba's Apostle. If today in India there is hardly a town or city where Sri Shirdi Sai Baba is not known, it is entirely due to the remarkable zeal and selfless service of Narasimha Swamiji and based on his publicity and the books compiled/written by him-which served as the starting point for understanding the greatness of Baba which is being felt now across the world also. 
Moreshwar W. Pradhan paid a glowing tribute to Swamiji in an article dated 9th Oct, 1943, "To broadcast all the experiences and the inner joy of such countless people individually is physically impossible. However, the real facts about Sai Baba's divinity contained in the first edition, were spread, far more extensively by the devotional propaganda of Mr. B. V. Narasimhaswami, who by his innumerable publications about Sai Baba's divinity in English, Tamil, Telugu, Sanskrit, Canarese, Malayalam, Hindi, Urdu, Gujarati and Bengali, and by his personal tours throughout the length and breadth of India, has been carrying the knowledge of the peculiar Avatar of Sai Baba to all the classes and creeds of India……….". 
Sri Sai Padananda Radhakrishna Swamiji, later President, All India Sai Samaj was instrumental for the construction of Sri H.H. Narasimha Swamiji's cottage in the All India Sai Samaj premises, as a tribute and homage to Swamiji during his birth centenary year.
http://www.srinagasai.com/blog/wp-content/uploads/2019/02/nvswami.jpg
400
495
admin
http://www.srinagasai.com/blog/wp-content/uploads/2021/04/logo1-300x71.png
admin
2020-04-01 10:35:10
2020-04-03 10:25:19
Sri B.V Narasimha Swamiji